Welcome to Rincon Sailing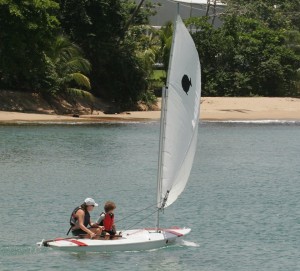 US Sailing Award Winner
Rincon Sailing is the 2011 winner of the US Sailing Community Sailing Outstanding Outreach and Inclusion Award!
Recent News
6 December, 2013 12:47
Saturday, December 7 & Sunday, December 8 are the last days of Fall Sailing 2013. Let us know if you are attending & what day. Holiday clinics to be announced soon!
6 December, 2013 10:03
Pass this on to any interested parties. RINCON SAILING is offering Learn to Sail at Club Deportivo del Oeste in December 2013 and January 2014. Questions: www.rinconsailing.com or 787-421-4700. Register: http://rinconsailing.com/?page_id=380
25 November, 2013 11:03
COASTAL SAIL (1 HOUR) Check out the sights of Rincon from the water! We'll sail you north or south depending on the conditions. $100 for 3 people. More than 3, contact us for details! See a video our of RINCON COASTAL SAIL here: https://www.dropbox.com/s/4sxqg5tnad9ukq1/Rincon%20Sail%20Final%20002.mp4 Jeanne N. Walker Sinclair, MS.Ed. Jeff Sinclair RINCON SAILING www.rinconsailing.com 787-421-4700
22 November, 2013 22:59
Hi Friends, What you think about our new Hobie Getaway video? Here's a link: https://www.dropbox.com/s/4sxqg5tnad9ukq1/Rincon%20Sail%20Final%20002.mp4 Lessons, Rentals & Tours available. Let's Go Sailing! Jeanne & Jeff Jeanne N. Walker Sinclair, MS.Ed. Jeff Sinclair RINCON SAILING 787-421-4700 www.rinconsailing.com
20 November, 2013 06:51
RINCON SAILING is offering Learn to Sail at Club Deportivo del Oeste in December 2013 and January 2014. Questions: www.rinconsailing.com or 787-421-4700. Register: http://rinconsailing.com/?page_id=380