ADULT SAILING SESSIONS
For adults ages 18 & up. Sailing in the living classroom of the Black Eagle Marina and the Tres Palmas Marine Reserve. Gain comfort being on the water with your new friends. Learn to sail building on the fundamentals. Gain confidence and increase independence with sailing skills, boat handling, sailing strategy, tactics, tuning and teamwork. Participants will get hands-on learning, including wind awareness, how a sail works, parts of a sailboat, rigging, points of sail, and safety guidelines. This course is perfect for those who want to learn sailing and join our community of sailors!
Sessions are 9:00AM – 11:00AM $50.00 plus tax per sailor per day session.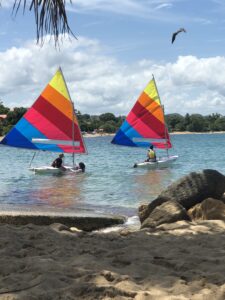 BASIC LEARN TO SAIL
Learn to Sail on a Sunfish or a Hobie Getaway. Our 3 Hour Basic Learn-to-Sail Private Lesson is a comprehensive on-the-water experience. The basics are covered in a fun and interactive way. Parts of the boat, rigging, steering and sail trim, safety and more. Weather conditions for sailing in Rincon are optimal between 9am – 12pm.
LESSON PRICING
$400, 1 – 2 Students 
$500, 3 – 4 Students
$600, 5 Students
Advanced Registration Required. Text or Call 787-421-4700 to set your reservation.