A BIT MORE HISTORY…
Jeanne and Jeff Sinclair first visited Rincón in February 2006. They had just delivered a 50' sail boat to Antigua after crossing the Mediterranean and the Atlantic. Jeanne and Jeff are both United States Coast Guard Captains and have been sailing for years. Jeanne has worked in the sailing industry since 1994 as a sailing instructor, coach and a director of sailing programs for many clubs.
The Sinclair's didn't move to Rincón immediately. They kept coming back for longer visits. With each visit the desire grew to move to Rincón permanently and to start a sailing school. They purchased a 4 acre piece of property and moved here in March 2007.
The Sinclair's chose 2 Sunfish for Rincón Sailing's first boats. It is a perfect boat for learning to sail. It is easy to rig, very stable and available all over the island. Lessons began in Fall of 2007, and Summer 2008 was the first Summer Youth Sailing Camp. Every year Rincón Sailing has grown "poco a poco" or "little by little". Currently Rincón Sailing has over 15 boats and offers year-round bilingual lessons.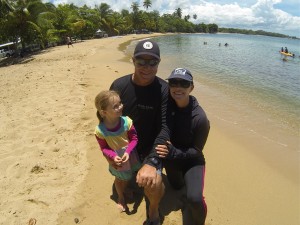 We'd like to thank the local community and all of our visitors for the continued support over the years. We look forward to continuing to serve you.  -Jeanne, Jeff & Zee Sinclair